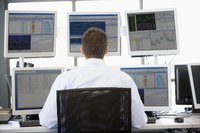 Stock brokerages generally fall into two categories: full-service and discount. While full-service brokerages are typically more expensive, all charge their clients some fees.
Commissions
A commission is the fee that the broker who executes your buy or sell order. Commissions range from approximately $5 per transaction for discount brokerages to 1 to 3 percent of the trade amount for full-service brokerages.
Asset-Based Management Fees
Some brokerages charge you a percentage of your total assets under management rather than an overall commission. Annual fees are generally in the range of 1 to 2 percent.
IRA Custodial Fees
Many brokerages waive the fee for processing IRA-related paperwork, but some still charge about $35 per year for these custodial services.
Premier Account
If you "upgrade" to the premier account that most brokerages offer, you will usually be charged an additional fee of about $125. Premier accounts typically offer debit or credit cards and checking accounts, among other enhanced services.
Inactivity Fees
If you do not generate a minimum amount of commissions or fees, most brokerages will charge you between $25 and $200.