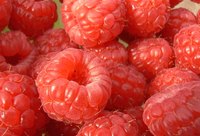 Raspberries contain salicylates, natural chemicals produced by plants. Individuals with allergies to salicylates have sensitivities to fruits such as raspberries, strawberries, blackberries, raisins and tangerines.
Function
Raspberry allergens affect sensitized people through inhalation, consumption and touch, causing immunoglobulin E (IgE) antibodies to stimulate chemical histamine releases. Histamine causes inflammation, leading to mucus production and reactions.
Effects
Raspberry allergies trigger symptoms such as itching, runny nose, watery eyes and breathing difficulties due to eczema, hives, conjunctivitis, allergic rhinitis and asthma reactions.
Considerations
Individuals with raspberry allergies may experience similar symptoms when consuming fruits, vegetables, nuts, herbs and spices containing salicylates such as tomato-based foods, jams, licorice, thyme, dill and chestnuts.
Diagnosis
Individuals experiencing reactions to raspberries may consider visiting an allergist or immunologist to test for salicylate allergies through elimination diet or food challenge tests, as salicylates are found in an array of foods and medicines.
Treatment
Treatment for mild to moderate raspberry allergies includes topical antihistamine ointments or sprays to reduce swelling, oral antihistamines, decongestants, and inhalers to decrease congestion and wheezing.