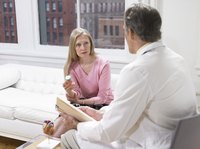 The breakdown of digested material is one of the most fundamental functions within the body. Because lipids (also known as fats) are one of the necessary compounds, metabolic disorders can have wide-ranging consequences.
Lipids
Lipids are kind of like large repositories for energy. They are constantly stored up or broken down depending on the needs of the organism. Lipids also provide cellular structural support and facilitate communication between cells.
Enzymes
Lipids, like all ingested materials, are processed by enzymes, which are proteins that facilitate chemical reactions. Because enzymes are produced through DNA code, many of the disorders are genetic, and the inability of the enzymes to properly break down lipids results in the accumulation of large lipid molecules that cause harm to the body.
Gaucher's Disease
Gaucher's disease is a hereditary defect of an enzyme that processes the fatty substance glucocerebroside. Fatty material can build up in the spleen, liver, bone marrow and kidneys, causing swelling, lesions or destruction of tissue.
Tay-Sachs Disease
Tay-Sachs disease is a genetic abnormality of an enzyme that degrades fatty acid products called "gangliosides," which can accumulate in nerve cells and the brain.
Other Diseases
Niemann-Pick disease is a lipid storage disease that may cause neurological or developmental problems depending on severity. Fabry's disease causes glycolipids, products of fat metabolism, to accumulate throughout the body, which can lead to vision problems, burning pain in the extremities, or heart or kidney failure.
Treatment
Many lipid disorders are rare, but they also tend to flout treatment and result in premature death. For some disorders like specific types of Gaucher's disease, incredibly expensive enzyme replacement therapy or drugs can have positive results.