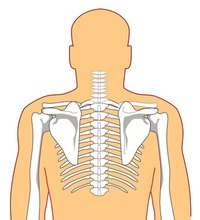 If you have neck pain caused by degenerating discs and non-surgical treatments have not helped, a cervical fusion procedure could be a treatment option. According to the American Academy of Orthopaedic Surgeons, one potential risk of this surgery is a failure of the cervical fusion to properly fuse your vertebrae.
Cervical Fusion
In cervical fusion, your doctor makes an incision in your neck to access your spine. She removes the intervertebral disc that lies between two vertebrae and replaces them with a bone graft. This graft will allow the vertebrae to grow together and fuse.
Fusion Failure
When a cervical fusion fails, the two vertebrae do not grow together. Both bones can move and this can cause pain in the patient's neck.
Causes
A cervical fusion might not fuse because of an infection at the fusion site. The bone graft could have moved out of place, preventing proper fusion, says the University of Maryland Medical Center.
Treatment
An infection can be treated with antibiotics and by draining fluid from around the fusion site. If the bone graft has shifted, your doctor can replace it with a new one that is properly placed.
Considerations
If your cervical fusion is not healing properly, your doctor can implant an electrical stimulator near the fusion site to encourage healing.