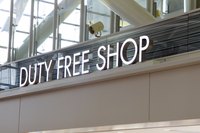 Duty-free merchandise is any consumer good that is purchased and not taxed. In the United States, the tax for an item is not reflected on the price tag but is added at the register. In many other countries, the local tax is included in the price you see on the price tag. It's often called a value-added tax, or VAT tax. Duty-free merchandise does not require you to pay any tax at all.
Duty Free Shops
The local tax on consumer goods outside the U.S. can range from 7 percent to over 30 percent of the purchase price. This explains the popularity of duty-free shops, which are usually found at airports, cruise terminals or other locations where there's a lot of international traffic. It makes sense to shop duty-free for items that have high local taxes, such as tobacco products, wine and other alcohol. For other items, purchase wisely because duty-free shops may mark up the prices and you'll end up paying just as much or more than you would elsewhere.
American Taxes
While duty-free shopping will protect you from paying local VAT taxes in other countries, there's still American customs to deal with when you get home. You don't have to worry about paying duties on merchandise worth up to $800. There are exceptions and separate limits on how much tax-free alcohol and tobacco you can bring back. The limits are 1 liter of alcohol, 200 cigarettes and 100 cigars.