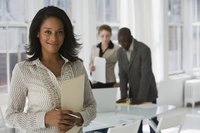 Everybody needs a little workplace motivation from time to time. Many people in leadership positions believe that implementing goal-setting programs is an excellent technique for increasing employee motivation.
Function
Goal-setting programs are common strategies that employers use to increase employee motivation. The theory behind these programs is that by setting goals, it enhances the employee's sense of belonging in the organization.
Defining Goals
Defining goals is an interactive way for employees to participate in their own productivity, and establish a sense of independence. By developing objectives, employees can feel like they have a sense of control and leadership.
Strategizing Goals
Strategizing ways to meet target goals can be a motivating activity for employees. If an employee sets his own goal strategies, he will develop a sense of ownership and his motivation will be enhanced.
Measurability
Goals are usually reviewed at an employee's performance appraisal, and measured to evaluate productivity. Goals can also be tracked by the employee. One of the motivating factors in goal-setting is that employees can monitor how close they are to reaching their goals.
Benefits
According to the June 2007 issue of "Basic and Applied Social Psychology," Eran Vigoda-Gadot and Larisa Angert contend that there is a positive relationship between setting goals and employees bonding with their work. This, in turn, results in organizational commitment.