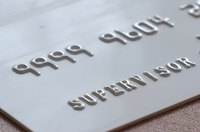 The Visa P-card is a credit card used by companies for procurement activities. The P-card allows businesses to control and track expenses.
Features
Billing options allow for consolidated and individual payment methods. Spending controls allow a company to designate types of purchases for each card. For example, a company may allow dining purchases but prohibit gambling. Other controls include transaction and daily spending limits.
Preventing Employee Theft
With the P-Card, supervisors can control of the types of purchases for each employee. For example, a supplies clerk may be prevented from using the card at a jewelry store.
Controlling Expenses
The P-Card allows a company to set spending limits. Travel costs for an intern may be limited to a $20 per diem while a salesperson's per diem may be $200. This feature also allows management to track expense categories, noting at a glance when expenses increase in one area.
Information Management
Reporting options include reconcilement, regulatory reporting, and information reports that may assist when negotiating with suppliers.
About Visa
Visa provides payment technologies internationally, serving more than 200 countries. Visa does not issue cards, or extend credit. About 70 percent of the Visa transactions in the United States involve debit or prepaid cards.