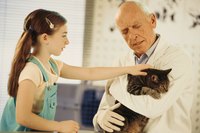 A common symptom of allergies in your cat is skin rashes. It is possible to relieve discomfort caused by your cat's allergies, however, with the help of an experienced veterinarian.
Symptoms
Symptoms of an allergic rash in your cat may include red, itchy patches on the skin with or without hair loss. An allergic rash may also be accompanied by other allergy symptoms such as sneezing, wheezing, and watery eye or nasal discharge.
Causes
Allergic rashes on your cat's skin may be the cause of food or drug allergies; parasite (flea or mite) allergies; and even mold, pollen, cigarette smoke or other environmental allergies.
Diagnosis
Your veterinarian will perform a medical history and physical examination along with other diagnostic tests, which may include blood testing and elimination of foods and possible environmental allergens.
Treatment
Topical anti-itch creams, ointments and shampoos along with oral antihistamines or steroids can help treat and prevent allergies. Avoidance of the allergen and supplementing your cat's diet with omega-3 fatty acids can also relieve and prevent allergic skin rash.
Warning
Your cat may wound its skin when scratching allergic skin rashes. If this happens, be sure to also treat any skin lesions or scratches to prevent infection from setting up.