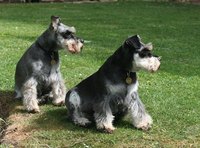 The miniature schnauzer is generally a healthy dog. Like all dogs, however, it can develop ear problems due to breed characteristics, allergic reactions, bacterial infections and parasites.
Excessive Ear Hair
Veterinarian Greg Hines at 2ndChance.info points out that schnauzers are bred to have an excessive amount of hair inside the ear, which can trap debris, moisture and encourage bacteria. Plucking this ear hair helps prevent ear infections.
Ear Structure
If a miniature schnauzer has ears that hang down (uncropped), it may be prone to ear infections because this type of ear decreases circulation in the ear canal and traps heat and moisture.
Infection
Bacteria and fungi (e.g., yeast) can grow quickly in a miniature schnauzer's ear, a condition called otitis. If the infection is not treated properly, it can move into the inner ear and cause pain and balance problems.
Parasites
Fleas and ear mites are the two most problematic parasites for miniature schnauzers. Fleas can cause scratching that can lead to infected wounds. Mites cause thickening of the ear canal in puppies.
Allergies
Dogs react to allergies with often intense itching in various parts of their bodies. A miniature schnauzer may experience painful itching in the ears due to food, chemical or environmental allergies.