According to Mar Vista Animal Medical Center, occasional constipation in cats does not warrant concern. It can be caused by a number of reasons, but is often relieved by a change in diet or the use of stool softeners.
Causes
Constipation may be caused by ingesting hair when the cat grooms itself, according to Mar Vista. It can be the side effect from a medication. Serious causes that require veterinary intervention include kidney failure and internal obstruction.
Dietary Changes
Mar Vista suggests adding fiber to the cat's diet. Canned pumpkin, bran cereal or a product such as Metamucil can be added. Consult your veterinarian for the appropriate amounts.
Stool Softeners
Stool softeners such as lactulose or DSS (docusate sodium) may be prescribed to relieve a cat's constipation, according to Little Big Cat. Laxatone or Petromalt (petroleum jelly) may also be administered.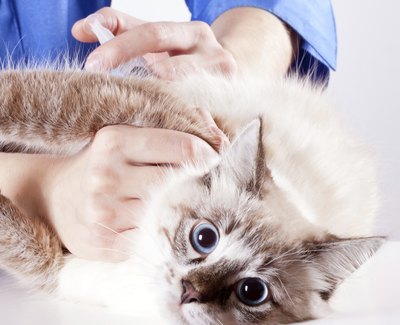 Mineral Oil
Mar Vista does not recommend the use of mineral oil as it may be accidentally inhaled by the cat. In addition, mineral oil is never expelled from the body and results in an ongoing reaction from the cat's immune system.
Considerations
If your cat is straining to pass stool, it can be a sign of a serious condition that requires veterinary care.