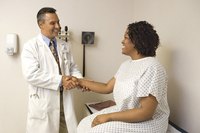 Fibroids (also known as uterine fibroids) are a type of noncancerous tumor that develops on or around the uterus of some women. Fibroids cannot be passed (like stones), but effective treatment options are available.
Potential
When fibroids are not causing symptoms, treatment may not be necessary, especially since these tumors tend to go away on their own starting in menopause, according to the Mayo Clinic.
Identification
Once fibroids are discovered, a doctor may periodically check on the fibroids to see if they are increasing in size or leading to complications (a practice known as "watchful waiting"), according to the Mayo Clinic.
Options
If treatment is necessary, options for fibroid treatment include hormonal medications to shrink the tumors and procedures to remove the fibroids or the organs affected by fibroids (hysterectomy), according to the Mayo Clinic and Medline Plus.
Warning
Reproductive choices should be considered when pursuing treatment for fibroids. Procedures that target only fibroids instead of removing or damaging reproductive organs may be available (based on the location and size of the tumors) to women who wish to have children in the future.
Considerations
Since every woman experiences fibroids differently, it is important to work closely with a doctor to identify the fibroid treatment that will work best for an individual woman.