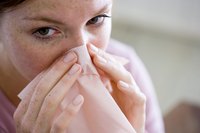 A bacterial infection in the lining of your nose can occur easily because the nasal lining that is located just inside of the nose is particularly susceptible to bacteria and subsequent infections, according to askdrsears.com.
The Lining Gets Dried Out
Dry air can cause your nose lining to dry out. When the lining of your nose is irritated, either because it is dry or it's infected, your blood vessels are then exposed, and this results in a nosebleed that will occur with the slightest provocation.
Your Nose and Your Sinuses
Your sinuses have the same kind of lining that your nose has. There are actually four pairs of sinuses in your head. These sinuses are connected to the inside of the nose through small openings called ostia, according to ENT-UK.org. An ostium is an orifice or a passage. If you have chronic sinusitis, the lining membranes of both the sinuses and the nose are affected.
Outcome
This can result in facial pain, bad breath, headaches, nasal discharge, inability to smell and a low-grade fever, according to ENT-UK. These symptoms are the outcome of a chronic infection to your sinuses that has continued for weeks. A chronic sinus infection evolves from an acute one that wasn't resolved.
Turbinates
Nasal turbinates are located inside your nose. Turbinates are soft tissues and bony structures that line the nasal cavity's sides. Turbinates, which warm the air that we breathe in before it enters out lungs, regularly enlarge and swell, but sometimes they swell too much, which causes congestion and nasal obstruction.
The Acid Reflux Connection
Interestingly, acid reflux can induce inflammation of the nasal lining and block the sinuses.
Treatment
Your physician may prescribe antibiotics, which should reduce the swelling of your nasal lining. Decongestants can help. If your condition fails to resolve itself, you may require surgery on your sinuses.