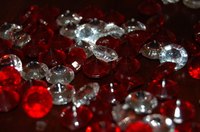 A ruby is a red precious variety of corundum. Rubies are the second hardest gemstone, registering a nine on the Mohs hardness scale. They are slightly softer than diamonds, which register as a 10.
History
Rubies have been treasured by royalty, religions and many different cultures. As a result, rubies have, at times, achieved a value of more than seven times that of a diamond.
Colors
Rubies range in color from a deep, dark red to a shade of light pink. The trace amounts of the mineral chromium in the gem are responsible for the ruby's red coloring.
Geography
Rubies have been found in countries throughout the world. The majority of rubies are found in Asian and African countries that include Afghanistan, Burma, Thailand and Vietnam.
Imperfections
Like other gems, it is rare for a ruby to be without imperfections. Rubies are heat treated to improve the strength and color of the gem. A ruby that is cut correctly will have a brilliance and sparkle that can rival a diamond.
Fun Facts
The birthstone for the month of July is a ruby. It is also one of the traditional gifts for those celebrating their 15th, 40th, 60th, and 80th wedding anniversaries.