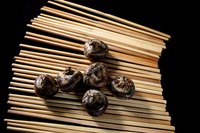 Water chestnuts are not actually nuts and are in fact rarely an allergen. However, people can be allergic to any food, so it is important for those who are sensitive to water chestnuts, cereals or fructose to learn about any potential allergy to the water chestnut.
About Water Chestnut
Water chestnut is the corm, or underground storage bulb, of the water chestnut plant. It is a vegetable that grows in wet, marshy areas.
Not a Tree Nut
Although it is called a water chestnut, it is not a nut at all. Therefore, those allergic to tree nuts, including chestnuts, will not be allergic to water chestnuts.
Contains Fructose
Water chestnuts do, however, contain fructose, so those with a fructose sensitivity or allergy should beware of water chestnuts.
Cereals Family
Water chestnuts are in the cereals family, so if those allergic to cereals should be cautious until they are sure they are not sensitive to water chestnuts. However, water chestnuts do not contain gluten, and in fact can be dried and milled as a grain substitute for those allergic to gluten.
Symptoms and Treatment
People can be allergic to any food. Though water chestnut allergies are rare, those who experience itching, nausea, stuffiness, difficulty breathing, or any other adverse effects after contact with water chestnuts should avoid them altogether. For mild symptoms, use an antihistamine like Benadryl. For severe symptoms, get medical care immediately.