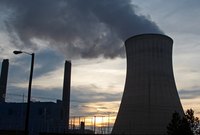 Environmental health and safety programs provide protection of human health and the environment from chemical, radiological, biological and physical hazards. Hazards result from exposure to spills and releases, proximity to industrial processes or general occupational activities.
Worker Safety
The Occupational Health and Safety Act standards provide the impetus and requirements for worker safety programs. Environmental health and safety programs prevent exposure to workers at hazardous waste sites and industrial operations using hazardous chemicals.

Engineering Controls
Environmental health and safety programs use engineering controls to minimize or eliminate exposure to workplace hazards.

Personal Protective Equipment
Personal protective equipment protects a worker from exposure if industrial hazards cannot be removed or controlled. Personal protective equipment, selected to match the workplace hazard, can include a hardhat, steel-toed boots, a respirator or simply gloves.

Environmental Audits
Companies audit their operations to assess compliance with environmental health and safety regulations. Environmental audits often consider compliance with occupational safety rules as well as compliance with environmental processes such as waste water discharge or waste disposal.

Community Safety
The Emergency Planning and Community Right-to-Know Act, administered by the U.S. Environmental Protection Agency, requires local governments to facilitate disclosure of potential industrial hazards to reduce risks to nearby populations. Furthermore, governments plan for their responses during emergencies.