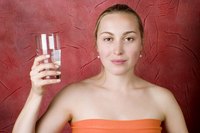 Water is the most abundant constituent of the human body. It's vital to life: you can live no more than seven days without water. Sales of bottled water, including distilled and mineral, soared in the last decade; consumers drank 8.6-billion gallons of bottled water in 2008.
Definition of Mineral Water
Mineral water is any water that comes from an underground source and contains at least 250 parts per million (ppm) of dissolved solids. Minerals typically found in mineral water include calcium, iron and sodium.
Definition of Distilled Water
Distilled water has been treated to remove inorganic compounds, such as lead, nitrate and iron. The distillation process also kills bacteria and some viruses and removes oxygen and some trace metals.
What Is Distillation?
Distillation is the process of evaporation and condensation. As water boils and forms steam, it leaves behind inorganic compounds and large nonvolatile organic molecules. When the steam condenses, it becomes distilled water.
Using Distilled Water
Distilled water is safe to drink but tastes flat, because it lacks natural minerals. Distilled water is often used for aquariums and car engines, as well as for scientific research.
Health Benefits of Mineral Water
Drinking mineral water may help you stay healthy, especially if it contains calcium and magnesium. You need calcium for strong bones, to transmit nerve impulses, control muscle contractions and secrete hormones and digestive enzymes. Magnesium helps strengthen the immune system and regulate blood pressure.