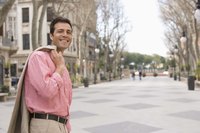 A blazer or sport coat can be an important part of a wardrobe. It can be dressed up with suit pants and a shirt and tie, or dressed down with khaki pants or jeans.
Fabric
Sport coats and jackets are made of the same types of fabrics, usually wool, though cheaper versions are available in cotton, corduroy and synthetic fabrics.
Buttons
Sport coats and blazers both have two to three buttons, which may be brass or may match the color of the jacket.
Cut
Blazers and sport coats are usually cut the same.
Fit
Blazers and sport coats should fit the same, with the sleeves hitting at the break in your wrist and showing half an inch of the cuff of your shirt.
Pattern
The only difference between sport coats and blazers is that blazers are always solid-colored, usually blue, black, camel or dark green, while sport coats encompass about everything else. Blazers are considered more basic and more formal than sport coats.