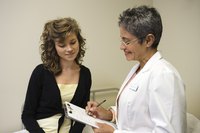 HPV is commonly transmitted from person to person through sexual contact. However, recent studies have shown that even women with no prior sexual history can contract this disease from skin-to-skin contact.
What HPV Means
HPV refers to a virus called "human papillomavirus," which can be transmitted through sexual intercourse. Primary symptoms include the appearance of genital warts.
How is the Disease Spread?
Those who practice anal sex are at increased risk of transmitting this disease, because of longer contact with the infected bodily fluid. However, heterosexual men can still contract HPV even if having only limited contact with infected fluid. The virus also spreads through skin-to-skin contact, according to the Cervical Cancer organization. Common non-sexual body parts at high risk of infection include a person's throat, tongue, mouth, feet, legs, arms and hands.
Transmission Through Non-Sexual Activity
The Avert organization, an international AIDS charity, states that while sexual activity remains the most common reason for transmission, "the transfer of infected genital fluids" can also occur through non-penetrative sexual activity.
Conclusive Tests Performed on HPV
The European Journal of Clinical Microbiology & Infectious Diseases published a study by Pao, Tsai, Chang, Hsieh and Jin which states the possibility of HPV transmission in young women through non-sexual skin-to-skin contact.
Results on Non-Sexual Transmission
The findings cite the discovery of HPV virus in nine out of 61 young women that did not have prior sexual experience. The detection method involved in vitro enzymatic DNA amplification using "cells obtained from vulvar swabs."