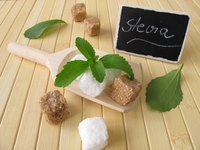 Splenda and stevia are both free of calories and approved as safe sugar substitutes by the U.S. Food and Drug Administration. The best choice could come down to the flavor you like and whether you prefer a leaf extract or a modified sugar. But stevia might prove helpful for lowering blood pressure, while research in animals suggests some Splenda is absorbed and may reduce beneficial bacteria in the intestine.
Distinct Origins
Stevia rebaudiana is an herb that thrives in South America. Its leaves contain a group of sweet-tasting compounds called stevio glycosides, which are extracted to make the sweetener stevia.
Splenda is the brand name for sucralose, which is made from sucrose or table sugar. The chemical structure of sucrose is altered by replacing three groups of hydrogen and oxygen atoms with three chlorine atoms.
Chlorine sounds like a harmful chemical, but it's commonly found in water and foods and is safe in Splenda, states Elmhurst College.
Taste Differences
Since sucralose production follows a specific process, Splenda retains a consistent flavor and aftertaste. By comparison, stevia's aftertaste may vary.
The stevia leaf contains many steviol glycosides that are naturally produced, which means individual plants have different amounts. Two of the glycosides -- stevioside and rebaudioside A -- determine the taste of the sweetener, according to the European Stevia Association.
When more than half of the total glycosides extracted from the leaf consist of stevioside, the sweetener typically has a licorice-like aftertaste. If rebaudioside A is the predominant glycoside, the sweetener tastes better and has less of an aftertaste. Only highly purified rebaudioside A is generally recognized as safe by the U.S. Department of Agriculture and is primarily used as a tabletop sweetener and in foods in the United States.
Compare Characteristics
Splenda is 600 times sweeter than table sugar, while stevia is 200 to 400 times sweeter. As a result, you can get by with less Splenda.
The acceptable daily intake, or ADI, is the amount you could consume every day for the rest of your life without worrying about health risks. The FDA reports that the ADI for Splenda is 5 milligrams per 2 pounds of body weight daily. Stevia -- purified rebaudioside A -- has an ADI set at 12 milligrams per 2 pounds daily.
The ADIs work out to almost 68 packets of Splenda or 30 packets of Stevia daily for a person weighing 150 pounds.
Both sweeteners are mixed with other carbohydrates, such as dextrose and maltodextrin, that add volume and texture without adding much to the calorie count.
Ongoing Research
The glycosides in stevia are biologically active ingredients that may help lower blood pressure and prevent diabetes, according to the Memorial Sloan Kettering Cancer Center.
Since studies so far have produced conflicting results, more research is needed in people before researchers can verify possible health benefits from stevia.
Most of the sucralose you consume passes through your system without being digested, but a 2013 review in the Journal of Toxicology and Environmental Health suggests that some of it is absorbed and affects metabolism.
For example, studies cited in the review found that sucralose affected bacteria in the intestine of laboratory animals, where it reduced the amount of good bacteria.
Like the stevia studies, more studies are needed using people before conclusions can be made about Splenda.