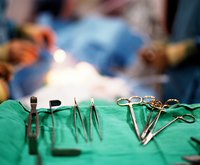 Subtotal colectomy is a surgical procedure performed on the colon and is used to treat a number diseases and conditions related to the colon. Colectomy refers to any surgical procedure involving removal of all or a part of the colon.
Identification
Subtotal colectomy, also known as partial colectomy, refers to surgeries that only remove a section of the colon. The word "subtotal" in "subtotal colectomy" is used to distinguish this type of surgeries from "total colectomy," which means complete removal of the colon.
Types
There are several subtypes of subtotal colectomy, according to the book "Clinical Oncology." Removing the right colon (i.e., the proximal colon) is referred to as right hemicolectomy. Similarly, removing the left colon is referred to as left hemicolectomy. Removal of the sigmoid colon is referred to as sigmoidectomy.
Significance
Subtotal colectomy is used to remove part of the colon affected by a number of diseases, including colon cancer, Crohn's disease and ulcerative colitis, according to the Mayo Clinic. Subtotal colectomy is also used to treat bowel obstruction and bowel perforation.
Considerations
Lynch syndrome patients are at high risk of developing colorectal cancer. Subtotal colectomy can be considered as a preventive measure to reduce risk of developing colorectal cancer, according to a 2007 article published in "Journal of Medical Genetics."
Complications
Complications of subtotal colectomy include anastomotic leak, small bowel obstruction, anastomotic stricture and fistula, according to the Mayo Clinic. Roughly 1 in 100 patients die due to complications from surgery, according to a 2009 review published in journal "Genetics in Medicine."