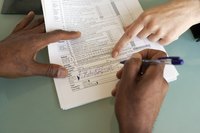 While they might seem the same, purchases of office supplies and computer supplies are treated much differently on business tax returns. Office supplies are a business expense, while computer supplies are a capital expense.
Business Expenses
An expense that is a regular cost of doing business (rent, employee salaries, office supplies, etc.) is a tax deduction for a business. The entire amount paid is deducted from the tax return in one year.
Capital Expenses
Expenses for items that will be used in the course of the business for more than one year (furniture, computers, software, etc.) are called capital expenses.
Depreciation
Capital expenses are not deducted on a single year's tax return, but spread out over the life of the item. This means that the cost of the item is deducted over several years' returns as depreciation.
Section 179 Deductions
Sometimes you can elect to deduct the entire purchase price for a capital expense item in a single year's tax return. This is called a Section 179 Deduction and may be used following strict limitations.
Claim Expenses
Business expenses are a line item in your tax return. Capital expenses require you to file IRS Form 4562 in addition to your usual tax return.