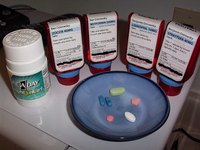 Women who experience infertility issues may try numerous things to increase their chances of conceiving. Metformin, also known as Glucophage, is occasionally prescribed in this situation.
Function
According to WebMD, metformin works by "helping to restore your body's proper response to the insulin you naturally produce, and by decreasing the amount of sugar that your liver makes and that your stomach/intestines absorb." This can help increase fertility in certain people, as well.
Significance
Metformin is prescribed to aid in the control of high blood sugar, along with exercise and a proper diet. This can help control type 2 diabetes, but has shown positive effects with women experiencing infertility.
Infertility
Although metformin can be successful for unexplained infertility, women who are suffering for polycystic ovarian syndrome tend to have a positive response to metformin's ability to help the body respond better to insulin. Metformin can help make cycles more regular and increase fertility.
Lactic Asidosis
Although metformin is occasionally prescribed for the treatment of infertility, it is important to note that there have been rare cases of lactic asidosis, a buildup of lactic acid in the body, which can be serious, and possibly fatal.
Warnings
Although Metformin is used to increase fertility, it should not be continued into pregnancy unless it is clearly needed, as determined by a physician, in the case of insulin management.