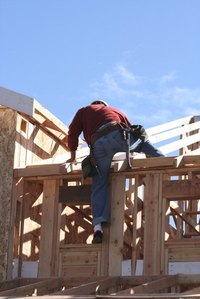 The term "indemnity" refers to monetary compensation due to loss or damage. Workers compensation indemnity benefits compensate an employee for loss wages due to an on-the-job injury, accident or event that prevents him from returning to work, whether temporarily or permanently.
Temporary Indemnity
An employee generally qualifies for temporary indemnity, or compensation, after she misses more than seven days of work because of an on-the-job injury that leads to partial or total disability.
Injured But Still Able to Work
If an employee is able to work, but with restrictions, then in addition to the income he is able to earn, the employee may qualify for workers compensation indemnity at a percentage rate equal to his average weekly pre-injury wage.

Injured and Unable to Work
Often, injured employees receive a lower indemnity benefit while on partial or temporary disability status when they cannot return to work--such as 64 percent of their average pre-injury weekly income.
Example of Partial Compensation
An injured employee who returns to work but has not yet fully improved may earn $100 per week. His pre-injury income was $600 per week. That employee could possibly receive a weekly indemnity benefit of 80 percent of his average weekly pre-injury wage, or $480, until he is able to fully return to work. Thus, his weekly take-home would be $580 per week while injured.
Incentives to Return to Work
Injured but recuperating workers receive the extra incentive of returning to work as soon as possible by generally being offered a higher indemnity rate upon their return than the rate they received while unable to work.
Warning
State laws may vary regarding workers compensation benefits. See your state's insurance department guidelines for further information on indemnity rates.