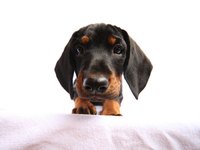 Dogs will eat just about anything. Many will not care whether their food is canned or dry, just that it's available. Depending on the individual dog's health, he may need just dry, just canned or a mixture of both food types.
Cost
Dry dog food is much less expensive than canned dog food, according to "KISS Guide to Raising a Puppy." This is because less food is needed in order to provide nutritional needs and can be more easily stored than canned food.
Moisture
Canned food is 75 to 78 percent water, according to the FDA. This can quickly fill up a dog's stomach but also quickly passes out of the dog. Dry food has less water but more actual food.
Teeth
Dry food is better for healthy teeth because it can help scrape off plaque, which can cause canine gingivitis. But dogs without teeth or with dental disease will not be able to chew and may only be able to eat canned food.
Spoilage
When canned food is opened, it needs to be refrigerated to prevent spoilage. Although dry food can become stale, it cannot spoil once a package is opened and kept in a dry place.
Taste
When given a choice, many dogs will prefer canned food over dry food, according to VetInfo.com. In order to tempt puppies to eat dry kibble, some canned food needs to be added, according to "KISS Guide to Raising a Puppy."