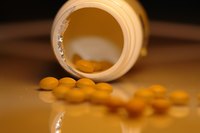 Herbalife is an adult diet that combines low-calorie shakes with herbs and other supplements to help you lose weight. You consume two shakes a day and then eat one meal, typically dinner, and take supplements designed to speed up metabolism, reduce hunger and provide nutrients. The Herbalife adult diet is not recommended for children.
About
The Herbalife company was founded in February 1980 and has been considered a popular diet option for adults.
Safety
According to the company website, Herbalife tests its products with clinical studies at major universities to determine safety and effectiveness. The company also established its own Nutritional Advisory Board to train salespeople.
Children
The Herbalife diet program is not recommended for children due to its restrictive caloric intake and lack of well-rounded nutritional offerings.
Supplements
Children should never take supplements, herbal or otherwise, that are meant for adults only. Consult a doctor with any questions.
Herbalife Kids
Herbalife makes Kids Shakes that claim to offer protein, fiber and important nutrients for children. Only use these shakes to compliment a normal, healthy diet and never as a replacement for meals.