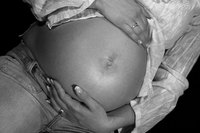 Often caused by an underlying disorder or disease in the body, neuropathy can be painful, making even simple tasks difficult and laborious for pregnant women.
Definition
Neuropathy is a category of disorders that occurs when the peripheral nerves, those that are outside of the brain and spinal cord, are damaged, according to medicalnewstoday.com. Women who suffer from neuropathy before pregnancy may notice their symptoms worsen during pregnancy, according to the American Academy of Neurology.
Cause
Neuropathy may be genetically inherited or caused by trauma, nutritional deficiencies, alcoholism, cancer, thyroid disease, diabetes and kidney and autoimmune disorders. Pregnant women who develop gestational diabetes may experience neuropathy.
Symptoms
Pregnant women with neuropathy may experience numbness or tingling in their hands and feet, muscle weakness, spasms or cramping, lessening or absence of the sense of touch, loss of balance, abnormal blood pressure, constipation, bladder dysfunction or diarrhea.
Diagnosis
A physical examination, including a thorough test of the reflexes and strength, in addition to a urine and blood test to evaluate the level of B-12 in the body, may be required.
Treatment
Symptoms of neuropathy may improve over time, specifically if the underlying cause is effectively treated. Prenatal treatment may consist of chiropractic massage, yoga, meditation, acupuncture or cognitive therapy. Supplements of vitamin E and B12 may help to ease symptoms, but should only be taken while pregnant at the recommendation of a health care professional.
Prevention/Solution
Eating a balanced diet, avoiding processed foods and taking a prenatal multivitamin each day, in addition to participating in moderate exercise regularly, can help to prevent gestational diabetes and nutritional deficiencies, which can cause in neuropathy in pregnancy.