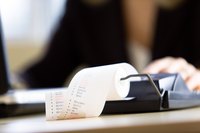 Certified Public Accountants (CPAs) are the highest certified professionals in the accounting industry. Not only are they trained and educated in accounting principles, but they also have a strong ethical responsibility when reporting and reviewing financial information.
Facts
Most CPAs are required to take a course in business and accounting ethics as part of their state's licensing procedures. Several states also require ethics refresher courses as part of the CPA's continuing professional education process.
Expert Insight
According to the American Institute of Certified Public Accountants (AICPA), all CPAs are required to exercise careful professional and moral judgments regarding financial information. This includes reporting any and all fraudulent activities in a business' operations.
Considerations
If a CPA finds intentional fraud regarding taxes or a questionable tax procedure, he may consult the AICPA or his local state accountancy board for clarification in the matter.
Significance
Failure to report accounting improprieties may result in the CPA losing his license and/or being banned from the accounting profession by the AICPA. He could also face criminal prosecution and fines.
Warning
The Internal Revenue Service (IRS) imposes strict penalties for tax fraud or evasion, including possible prison time and/or fines. These penalties can be imposed on the CPA and the taxpayer.