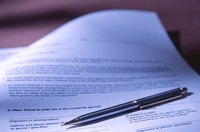 An informal business contact can refer to either an oral contract or all contracts that are not under seal or of record. These are also called parole contracts. Usually, an unsealed written contract is considered more binding as compared to an oral contract. The agreements in written form cannot be contradicted.
Process
According to Elementary Banking, an informal business contract does not require any witness nor does it require a seal. The wording of the contract should be simple and brief and should not contain any confusing statements. It should fully state the intentions of both parties.
Oral Contract
It is hard to prove an agreement based on oral contract only. It is always beneficial to put the oral contract into an informal written contract that is signed by both parties.
Laws
According to "statute of fraud" laws, some contracts are incapable of being enforced unless evidence in written form is available.
Drawbacks
Due to the absence of terms and conditions of an oral agreement, one party may not be able to enforce the contract. In other cases, a party may be obliged to settle for something less than the original agreement. Thus, even when there is not a formal contract drafted, it is considered good practice to have something in writing that summarizes the agreement and is signed by all parties involved.
Example
Let us say that Person A makes an oral agreement to pay $400 to Person B in two years at an interest rate of 6 percent. If A dies, B won't be able to prove the existence of such an agreement.