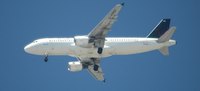 In the world of modern-day aviation, pitot tubes play a significant role. Responsible for speed measurements, any false reading by a pitot tube can result in tragedy, as has been shown in recent history.
Function
The function of a pitot tube is to read the relative speed of the aircraft, giving the pilot an accurate measurement of airspeed. This allows the pilot to operate the aircraft at speeds required by the manufacturer to maintain the structural integrity of the plane.
How It Works
Pitot tubes are tube shaped and contain 2 holes. One hole faces the direction of movement and, measures the stagnation pressure of oncoming air. The other hole is on the side and measures static pressure. The difference between these two pressure types allows for the measurement of dynamic pressure, which is then used to calculate the aircraft's airspeed, instructs Ken Powell, an aerospace engineer at the University of Michigan at Ann Arbor.
History
Originally designed by Henri Pitot, this measuring device was created in France during the 18th century to measure flowing water, according to a June 9, 2009, article in the "Scientific American" by Brendan Borrell.
Problems
As modern technology advances, so do quality pitot tubes. However, although extremely rare, aircraft occasionally experience icing over the pitot tube, making it difficult for the pilot to determine the aircraft's speed.
Incidents
Pitot tubes have been cited as one of the main causes of the crash of Air France Flight 447 on May 31, 2009. The plane, with 228 people on board, was headed from Rio de Janeiro to Paris. It is thought that icing over the pitot tubes attributed to misrepresentation of the speed of the airplane, leading to the aircraft traveling faster than it was designed to do.