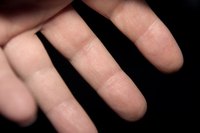 Distal interphalangeal joint pain occurs in the finger or toe joint that is closest to the tip. There are four DIP joints in the fingers and four in the toes. Treatment varies according to the cause of the pain.
Identification
Distal interphalangeal joint pain can be caused by a fall, hyperextension, gout, infection, joint laxity, osteoarthritis and even a fracture. The severity of the pain will vary depending on the nature of the injury or condition.
Mallet Finger
Athletes such as basketball or football players can be prone to a painful condition called mallet finger. It is usually caused by an injury to the tendon in the DIP joint. People with mallet finger cannot straighten the tip of the finger, according to the article "A Patient's Guide to Mallet Finger Injuries" at HandUniversity.com.
Types of Treatment
Most DIP finger and toe pain can be treated with rest. During this time, buddy taping can be used to prevent further injury, which involves taping the injured finger or toe together with an adjacent one.
Other Treatments
Ice can be used to reduce inflammation, swelling and pain in the DIP joint. Ice is most effective if it is compressed directly against the injury using an ice pack. It also helps to elevate the injured joint above the heart.
Considerations
A doctor may prescribe a cortisone injection for more severe DIP pain. Moreover, sometimes joint fusion or joint replacement may be necessary, especially for more degenerative conditions like osteoarthritis.