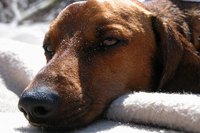 Dogs love to eat people food. The problem is that some foods safely eaten by humans every day can be toxic to dogs and cause fatal poisoning.
Chocolate Toxicity
"Chocolate is toxic to all dogs," says Betsey Welty, DVM, "but the level of toxicity is dependent on how much they eat and what type of chocolate it is." Dark and baking chocolates and cocoa powder are more toxic than milk chocolate. "For example," Dr.Welty says, "a toy breed that eats a bag of milk chocolate candy is in a lot more trouble than a great Dane that eats that same amount."

Adverse Ingredients
Chocolate and cocoa contain theobromide that affects the lungs, kidneys and central nervous system. "The caffeine in chocolate also has a detrimental effect on dogs," Dr. Welty says, "as does the high content of fat."
Symptoms
Welty says the first symptoms of overeating chocolate are gastro-intestinal and include vomiting and diarrhea. Call your veterinarian immediately if poisoning is suspected.
Grapes and Raisins
Other common foods that are toxic to dogs include any color grape and raisins. Dr. Welty says the negative effects of grapes and raisins vary from one dog to another. "One dog could die from kidney damage by eating four raisins but they might not bother another dog at all."
Onions and Garlic
Ingestion of onions, especially cooked onions, and garlic, can result in deadly levels of thiosulphate. Toxic levels of thiosulphate cause anemia resulting in destruction of red blood cells.