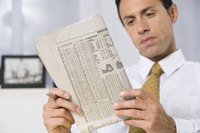 Investors always want to make sure they are paying the best price for any investment. Savvy, educated and novice investors should look at book value and market value.
Book Value Definition
The price paid for an asset is called its book value. This price never changes for as long as the asset is held.
Market Value Definition
The market value is the current price (today's price) at which the asset can be sold. This price will fluctuate depending on market conditions.
Example
An investor buys 100 shares of ABC stock for $1,000 (book value). Today, those 100 shares can be sold for $2,000 (market value).
Significance
Profits and losses are tracked by using book values as the cost basis. The difference between book value and market value is the profit gained or loss incurred.
Identification
Book value is used in general accounting principles. Hard assets, such as equipment and buildings, must be listed on a company's balance sheet as book value. Even if these hard assets have appreciated, they cannot be repriced at the current market value to reflect the overall value of the company.
Expert Insight
Understanding and knowledge of both market and book value are important to get a complete picture of any company, home or investment.