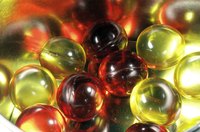 Fish oil, also known as Omega-3 fatty acid, and Omegas-3-6-9 fatty acids have health benefits. They can be found naturally or through supplements and they work together to promote heart and brain function. Current diet examination is necessary in determining which supplement is needed.
Fish Oil
According to Mohammed H. Moghadasian in Food Science and Nutrition, Fish oil comes from tissues of fish that consume things high in omega-3 fatty acids, such as micro-algae.
Benefits of fish oil
According to Dr. Michael Main in an interview on heart health, fish oil helps regulate cholesterol, has anti-inflammatory properties and positive effects on body composition.
Omega-6 fatty acids
According to Umm.edu, Omega-6 helps stimulate skin and hair growth, maintain bone health, regulate metabolism and maintain the reproductive system. Omega-6 that comes from vegetable oils such as evening primrose oil (EPO), borage oil and black currant seed oil cause the least inflammation.
Omega-9 fatty acids
Omega-9 fatty acids are good for heart health and maintaining healthy glucose levels. It can be found in olive oil, olives, avocados, almonds, peanuts and other nuts, all according to Men's Total Fitness.
Fish oil vs. Omega 3-6-9
According to Umm.edu, fish oil (omega 3) works with omega-6 to provide health benefits for the body, especially when consuming an inflammation-causing source of omega-6. All the omegas have outstanding health benefits, but consult with a doctor and/or dietician before choosing an appropriate supplement.