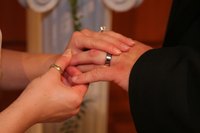 An incredibly strong and dense metal, tungsten can be combined with ceramic to make rings and other fine jewelry. Tungsten ceramic rings are becoming a popular choice for many wedding bands due to their durability and beauty.
Identification
Tungsten is a steel-gray metal. When paired with tungsten, ceramic is often polished black for greater contrast.
Strength
When processed with carbon at high temperatures, tungsten forms tungsten carbide, the hardest metallic substance in the world. Tungsten ceramic rings have unmatched strength.
Benefits
Tungsten ceramic polishes to a mirror-like finish. It's also highly resistant to abrasions and scratches. It would take deliberate scratching from diamonds or corundum to inflict any damage whatsoever.
Considerations
Tungsten ceramic rings, while nearly impervious to scratching, are not indestructible. Tungsten ceramic's hardness makes it slightly more brittle than traditional jewelry metals, meaning it can be crushed under severe stress.
Warning
Once manufactured, tungsten ceramic rings can not be resized due to tungsten's remarkable hardness.