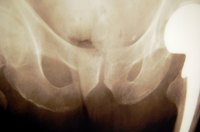 Other than a bruise, outer hip pain is usually caused by piriformis syndrome or trochanteric bursitis. The piriformis muscle connects the greater trochanter bone to the sacrum, a lower back vertebrae. Trocanteric bursitis occurs when the bursa sac on the greater trochanter bone, the prominent leg bone near the hip, becomes irritated.
Function
Conditions that cause outer hip pain usually stem from repetitive stress or excessive physical activity. Runners are prone to either piriformis syndrome or trochanteric bursitis. People are also more prone to trochanteric bursitis when they age, according to the article "Trochanteric Bursitis" at Clevelandclinic.org.
Identification
Pirformis syndrome can cause pain in the outer hip as well as tightness and increased muscle tension in the hip and buttocks. Pain from trochanteric bursitis can usually be felt directly on the outside hip bone when one presses down on it.
Types of Treatment
People with outer hip pain should stop all physical activity for a while and rest. During this time, ice should be used for 15 to 20 minutes several times per day to reduce inflammation and pain.
Other Types of Treatment
Once the initial inflammation has subsided, individuals should gradually perform basic stretching exercises to improve mobility and strength. Exercise promotes blood flow, which brings oxygen and nutrients to the injured area.
Considerations
People with outer hip pain may experience some relief by changing shoes or getting shoe inserts. People that have one leg shorter than the other should use shoe lifts. See a doctor as some degenerative conditions can contribute to outer hip pain.