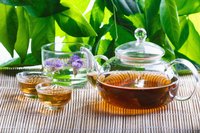 Especially abundant in plant foods, polyphenols and flavonoids may help combat diseases associated with free radicals in the body. Because research into these antioxidants is relatively new, however, their properties and their ability to be absorbed in the body are not yet fully understood.
Polyphenols 101
Polyphenols are a class of phytochemicals found in foods like fruits, juices, tea, coffee, red wine, vegetables, cereals, chocolate and dry legumes. They may be involved in preventing diseases associated with oxidative stress, like cancer and diseases of the brain and cardiovascular system, as well as diabetes and osteoporosis. Polyphenols may even play a significant role in how enzymes function in your body.
The Flavonoid Class
Flavonoids are a type of polyphenol. The most common flavonoids are flavonols, which are found in onions, curly kale, leeks, broccoli, blueberries, red wine and green tea. You can get other types of flavonoids by eating cereals, celery, tomatoes, parsley, mint, soy, chocolate, leafy and root vegetables and many fruits like citrus, apples, berries and cherries. Flavonoids offer benefits similar to those of polyphenols.
Risks Associated with Polyphenol Consumption
Researchers have observed detrimental effects from some polyphenols. Certain types may cause genetic mutations contributing to cancer, interfere with thyroid and sex hormone activity, inhibit iron absorption or interact with medications. More research is necessary to understand the consumption level at which these effects may occur.