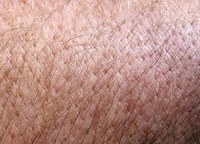 Tiny red bumps that appear on the skin can have several causes. The location, appearance, and color will help a doctor make a diagnosis. Ruling out some common causes is also helpful in determining what may be at the root of the tiny red bumps.
Acne
Acne can cause tiny red bumps on the face, neck, back, and chest. In addition to red bumps, small pus-filled sacs and blackheads may also be present. Acne usually begins in adolescence and can carry into adult years. Over-the-counter acne creams with benzoyl peroxide help, but stronger medication may be needed from a doctor.
Rosacea
If a person has a flushed appearance, with predominant redness across the cheeks, chin, forehead, and nose, rosacea may be the cause. Rosacea is a chronic and progressive inflammatory skin condition, often identified by a red butterfly-like rash across the cheeks and nose. Flare-ups come and go, and antibiotics are sometimes suggested for controlling the rash.
Bites, hives, allergies, and infections
Bug bites, hives, and allergic reactions to foods or medicines can all cause tiny red bumps on the skin. Red bumps from insect bites may be no larger than a pin head. Hives and allergic reactions can result in raised and itchy red bumps and patches. Folliculitis, an infection of the hair follicles, and cellulitis, an infection of the skin often around a cut, burn, or scrape, are other causes and can be identified by location.
Age-related red bumps
Seborrheic Dermatitis, or dandruff, is a condition that affects adults (mainly 30 to 60 years of age), and is caused by an overproduction of sebaceous glands. In addition to small red bumps, the skin can look greasy, scaly, and flaky. In infants, a similar condition occurs, and is referred to as cradle cap. Noticeable tiny red dots on the scalp are present in both cases.
Contact dermatitis
Irritant contact dermatitis is caused by a reaction to jewelry, perfumes, detergents, soaps, or fabrics. The rash's appearance can be red, swollen, and itchy. Healing sunburn is also a kind of contact dermatitis. Allergic contact dermatitis is caused by poison ivy, oak, or sumac, and it is accompanied by tiny red bumps, blisters, and itchy skin.
Sweat
An inflammation of the sweat glands, called hidradenitis suppurativa, can result in tiny red bumps and dots on the skin, often under the arms. Avoidance of antiperspirants and deodorants is suggested as well as a visit to a doctor.