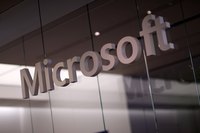 Ah, it's your first day at a new job with new people, new office, new desk and ... the same Windows operating system on your new computer. Windows still holds 91.53 percent of the desktop market share as of June 2014, a trend that has seen little change since 2012. With such a dominating presence, Microsoft continues to influence the way the world does business.
In the Office
Microsoft Office shows similar domination in the productivity suite market. A 2013 survey by computer research and advisory firm Forrester Research indicated 85 percent of their clients currently used Office 2010, with Office 2013 starting to gain share. Two years earlier OpenOffice and suites built on its open-source code was found in 13 percent of clients' offices, but fell to 5 percent by 2013. To grab a toehold in the office productivity market, any suite must include file compatibility with its Microsoft Office counterpart.
Delivering the Mail
Messaging and collaboration in the workplace also feels the influence of the Microsoft touch. The Radicati Group, which monitors email and instant messaging markets, released a report in April 2014 indicating Microsoft Office 365 and Microsoft Exchange accounted for 51 percent of business email and collaborative messaging mailboxes worldwide. Businesses with on-premises email exchanges use Microsoft Exchange 85 percent of the time. Exchange's stability, flexibility and familiarity continue to outshine competitors in the business market.
New Devices and Platforms
New technologies have not been met well by the software giant. In the smartphone and tablet market, Windows phone and mobile operating systems account for only 2.01 percent share, compared with 45.61 percent for Apple products and 43.75 percent for Android-powered devices, according to June 2014 figures from NetMarketShare. While this represents a doubling in popularity over the previous 12 months, sales of personal computers are falling, while sales of mobile devices are gaining, leading to a shift away from Windows operating system devices.
The BYOD Trend
Microsoft's weakness in supporting new technology may provide challenge or opportunity through a rising trend in the business world -- that of the bring-your-own-device phenomenon. With the growing capability of smartphones, tablets, Chromebooks and other non-PC devices, technology becomes more sourced to consumers in a business environment, rather than to the company. Workers may now bring their devices to a new job, incorporating these into their employers' infrastructures. Because mobile devices move radically away from Windows operating systems, they represent the potential erosion of Microsoft's business dominance.