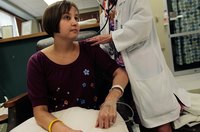 The term stage four (stage IV) cancer refers to cancer that has spread (metastasized) from its primary site inside the body. Chemotherapy is an effective treatment for some forms of stage four cancer.
Cancer Staging
According to the National Cancer Institute (NCI), doctors sort cancer into stages of development as a way to clarify symptoms and determine effective treatments. Factors in staging include the size, number and location of tumors; the degree of difference between cancerous cells and normal cells; and whether the cancer has spread to other areas of the body.
Chemotherapy
Chemotherapy uses potent drugs to kill or damage cancer cells. Its system-wide effects make it suitable for treating stage four cancer.
Specific Uses
Cancer Supportive Care Programs lists several stage four diseases that may benefit from chemotherapy, including cancers of the liver, lung and bone. In the case of liver cancer, doctors may apply chemotherapy drugs directly to the organ, thereby diminishing the treatment's harmful systemic side effects.
Determining Treatment
According to the NCI, doctors determine the use of chemotherapy for stage four cancer based on additional factors that include a patient's general health, age and history of previous treatments.
Additional Treatment Options
The NCI cites additional treatments for stage four cancer including radiation therapy, surgery, hormone therapy and immune-boosting biological therapy.