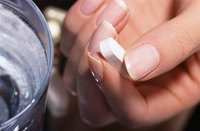 Tendon injuries from tendinitis, acute injuries and overuse injuries can be painful and cause physical limitations. However there are many different supplements that can help in the healing and reduction of inflammation in tendon injuries.
Lysine
Lysine, also known as L-lysine is an amino acid that is responsible for converting fatty acids into energy. Lysine also contributes to the production of collagen which supports the function of healthy tendons.
Vitamin C
According to the University of Maryland, taking 250mg to 500mg of vitamin C two times a day may aid in healing and reduce inflammation.
Calcium and Magnesium
Calcium and magnesium supplements can aid in the healing of connective tissue and muscles.
Vitamin E
Vitamin E found in essential fatty acids such as fish and vegetable oils can reduce inflammation.
Bromelain
According to the University of Maryland, bromelain is an enzyme found in pineapples that can reduce swelling and inflammation.