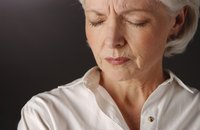 Women going through menopause suffer from a lot of symptoms. Stomach trouble during this time typically includes digestive problems, gastrointestinal distress, indigestion, flatulence, gas pain and nausea.
Symptoms
Many menopausal women suffer from digestive problems. They often feel crampy, bloated, gassy, constipated and have diarrhea. They may also feel like they have to go to the bathroom when they actually don't.
Cause
Stomach problems are most likely caused by hormonal imbalances. Estrogen and progesterone levels decrease, and these hormones affect many different functions of the body, including the digestive process.
Function
Estrogen controls the amount of cortisol produced by the adrenal gland. Too much cortisol slows down the body's ability to release stomach contents into the small intestine, which leads to bloating, gas and constipation.
Considerations
A woman going through menopause may also be under stress from other symptoms, like weight gain, loss of libido and memory lapses. This stress can easily be another cause of stomach issues.
Treatment
Lifestyle changes, like a healthier diet and drinking more water, can resolve stomach trouble. These changes can be combined with alternative medicine, such as herbs and supplements, to balance hormone levels. Doctor-prescribed medicine can be used if stomach problems don't cease with these less risky treatments.