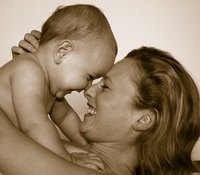 Hair products allow you to style your hair in a way that is as individual as you are. While most products are not harmful to older children and adults, babies should not be exposed to such products. Babies lack the knowledge and motor skills that are required when dealing with products that could potentially cause harm.
Shampoo
No-tears shampoos are ideal for babies, but regular shampoos can be used if special care is taken. Medicated shampoos, however, should never be used on a baby without the expressed consent of a medical professional. Most medicated shampoos contain ingredient quantities that could be dangerous to a small body.
Styling Products
It might seem harmless to put a little bit of mousse or gel in your baby's hair, and it is fine to put a little bit of something in your baby's hair for pictures or something else that will be over quickly. The main issue with putting styling products in baby hair is that babies pull on their hair, suck on their fingers and rub their eyes. They can easily eat products or get them into their eyes.
Hairspray
Hairspray should never be used on a baby. Babies can inhale the spray resulting in lung problems. The spray can also irritate their eyes.
Treatments
Treatments are not recommended for babies. Possible treatments include conditioning treatments, clarifying treatments, lice treatments and hair-loss treatments.
Chemicals
Perm, relaxer and color applications should never be used on a baby under any circumstances.