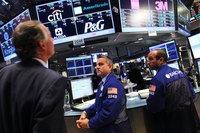 The three-day rule refers to the settlement date after a stock purchase. All stock transactions have an assigned trade date and settlement date. The terms T+1, T+2 and T+3 refer to the number of days a trade has to reach settlement.
Settlement
Settlement means the stock investor has paid for any stocks purchased. Typically, payment occurs in the form of cash from the investor's cash (standard brokerage) account.
Three-Day Rule
T+3 means a stock transaction must reach settlement no later than three days from the trade date. The investor pays for his purchase with cash from his brokerage account or must deposit enough cash to cover the purchase within three days of the trade's execution.
Settlement Date
Calculate the settlement date based on the days the stock market conducts business.
Example
T+3 means if a trade occurs on Tuesday, but Wednesday the market closes for a holiday, then the investor has until the following Monday to pay for the trade.
Trade Date
Investors cannot back out of a transaction during the T+3 timeframe. The purchase becomes final on the date the purchase transaction occurs (trade date).