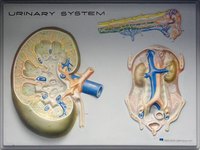 A mass in the kidney is often caused by a cancerous tumor. Some kidney masses, however, are benign.
Definition
"Kidney mass" is a nonspecific term for an abnormal growth of tissue in the kidney. It is not a diagnosis in itself, and more testing is needed to find out what kind of tissue it is made of.
Detection
Occasionally, a kidney mass causes symptoms and prompts a doctor to order an ultrasound, CT scan, or MRI. More often, the mass is found coincidentally when a scan is ordered for an unrelated reason.
Symptoms
Symptoms, if present, vary depending on the type, size and location of the mass. They can include bloody urine, pain in the flank or lower back, or a palpable mass felt by the doctor.
Benign masses
Smaller masses are more likely to be benign (30 percent to 40 percent of masses under 4cm, but less than 10 percent of masses over 7cm). Benign masses may be cysts, oncocytomas, angiomyolipomas or some other type of growth.
Complications
A benign (non-cancerous) kidney mass can cause problems such as bleeding. However, only a malignant (cancerous) mass can spread throughout the body.