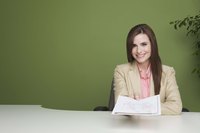 A job description is written to provide a job seeker or employee with the main objective of a job, its purpose, responsibilities and required qualifications.
Function
A job description's function is allow a job seeker or employee to understand the requirements of a job and give standards for performance expectations. It also helps define relationships between departments and job supervisors in order to clarify an organizational structure.
Qualifications
Qualifications include skills and education required to ensure the job can be fulfilled successfully.
Role
The role gives an overall description of the job and enables the employee to understand the importance and how it fits into an organization.
Responsibilities
Responsibilities are specific tasks to be completed, often broken down to daily, weekly, monthly and yearly segments.
Significance
A job description not only helps analyze an organization's structure to ensure all required work is accomplished,but it provides the ability to accurately assess job performance to reward or improve an employee's quality of work.