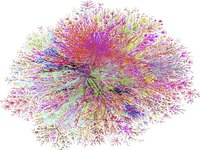 The web of causation is primarily a medical term used to represent the complex group of subjects and relationships that can contribute to the occurrence and spread of a disease.
Identification
The web of causation is a key term in epidemiology, the study of the distribution of health outcomes in a given population. The web model shows that diseases are not distributed randomly in any group, but that isolating how they are distributed requires the study of many factors.
History
The term "web of causation" first appeared in a U.S. epidemiology textbook in 1960.
Considerations
It is important to distinguish association from causation. Just because a symptom is associated with a certain population or event does not mean that event or group is the cause of the symptom.
Warning
The web of causation implies there is in fact no single cause of any symptom or disease: they all stem from multiple inciting factors. Even seemingly obvious causal connections should be considered tentative.
Fun Fact
The "web of causation" model has been popularly applied to other complex systems, including the Internet and the world economy.