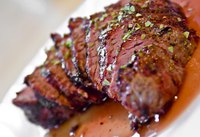 All people need to eat protein to provide the body with eight essential amino acids used to build proteins that carry out biological processes. The amount of protein required by 50-year-old women can vary, but it will typically fall between 45 and 60 grams per day.
Protein Needs
The Vegetarian Society of the United Kingdom says that for 97 percent of the population of women ages 50 and over, 46.5g of protein per day will be enough.
Weight
According to a study by the World Health Organization, the amount of protein adults need daily is based on their body weight, regardless of age and gender. They recommend consuming 0.83g of protein per kilogram of body weight, which is 0.38g per pound of body weight.
Activity Level
People who are highly active may require more protein than is typically recommended, especially if they are focusing on building muscle. However, most of the additional energy for sustaining high activity can be acquired from increased carbohydrate intake, not protein intake.
Protein Sources
Meat is a good source of protein, as it contains all of the essential amino acids. Women on a vegetarian diet need to vary their protein sources to get all of the essential amino acids. Many combinations of proteins will suffice, such as beans and rice, bread and peanut butter, and muesli and milk.
Warning
Diets excessively high in protein, typically defined as consuming twice as much protein as recommended, can lead to health problems. In particular, osteoporosis and kidney failure have been linked to high protein intake.