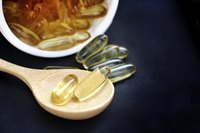 If you have gout or kidney stones, you may need to follow a low-purine diet to help control your condition. Although fish, including herring, anchovies, mackerel and shellfish, can be high in purines, you don't need to avoid fish oil supplements if you're restricting your purine intake.
Fish Oil and Purines
Fish oil often comes from fish that are high in purines, but the fish oil supplements you purchase in the store are purified and distilled, so they have had most of the purines removed, according to rheumatologist Dr. James McKoy.
Fish Oil and Gout
Fish oil supplements may actually be beneficial for gout patients. Omega-3 supplements may help limit inflammation, so the University of Maryland Medical Center recommends people with gout take one or two capsules per day unless they are on medications that can thin the blood.