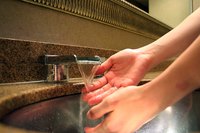 Washing your hands removes dirt and germs from contact with various surfaces. "Drying your hands properly is as important as washing them," according to The Better Health Channel. Keep your hands completely dry to maintain cleanliness.
Importance
Drying your hands after washing gets rid of germs that are clinging to the water particles. The Mayo Clinic states that "wet hands have been known to transfer pathogens much more readily than dry hands or hands not washed at all."
Method
The Better Health Channel recommends patting your hands dry using paper towels, single-use cloth towels or hot-air dryers.
Drying Time
Dry your hands until there is no moisture left. "The drying times required to reduce the transfer of these pathogens varies with drying methods," according to the Mayo Clinic. An air dryer requires a longer drying time than paper or cloth towels.
Considerations
If you wear hand jewelry, dry it thoroughly because jewelry tends to trap germs.
Warnings
According to the Hexistat, "Repeated drying of hands with reusable cloth towels is not recommended and should be avoided." Clean and disinfect cloth towels frequently as they harbor germs from previous use.