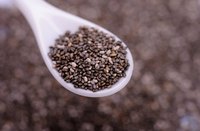 Not only do chia seeds offer an excellent source of fiber and various vitamins and minerals, but they also provide healthy fats, antioxidants and amino acids that may help you fight depression. Don't rely on chia seeds as a sole treatment method, however. Consult your doctor or a mental health professional if you are experiencing depression symptoms.
Omega-3 Fatty Acids and Mood Disorders
Depression and mood swings are known symptoms of omega-3 fatty acid deficiency. Part of the reason is that inflammation in the brain interferes with the ability of cells to communicate with one another, and without adequate amount of omega-3 fatty acids, there is little protection from this harm. Although the current body of research shows mixed results, omega-3 fatty acids as a complement to prescription antidepressants may offer greater benefits than medication alone. Chia seeds are one of the best plant-based sources of omega-3 fatty acids, with 460 percent of the daily target for alpha-linolenic acid.
Antioxidants and Mental Health
Chia seeds provide antioxidant benefits not only in their selenium, copper and iron content but also from flavonoids, phenolic acids and lignins. Because depression has been linked with oxidative stress, antioxidants are being studied as an enhancement to conventional antidepressant treatments. A 2012 CNS Drugs literature review article noted that major depression has been associated with lower levels of several antioxidants, providing evidence for a positive effect of antioxidant-rich foods like chia seeds on mood disorders.
Amino Acids and Depression
Chia seeds are an especially rich source of tryptophan, containing a total of 124 milligrams per ounce. Tryptophan is the amino acid necessary for building serotonin, the neurotransmitter that promotes feelings of well-being and happiness. The body of research studies regarding a positive relationship between tryptophan deficiency and depression or tryptophan supplementation as an antidepressant has been inconclusive, so more research is needed.
B-Vitamins and Neurotransmitters
Because they are essential for neurotransmitter production, the vitamin B-complex is important for a stable mood. Depression and anxiety both have been connected with B-vitamin deficiencies, so maintaining a healthy level of these nutrients by consuming foods rich in B vitamins, like chia seeds, may help combat depression. One ounce provides 16 percent of your daily value of thiamine, or vitamin B-1, and 18 percent of your niacin, or vitamin B-3, needs. There are also small amounts of riboflavin, or vitamin B-2, and folate, or vitamin B-9.
Adding Chia Seeds to Your Diet
Chia seeds are relatively flavorless, so they can be tossed into just about anything you enjoy eating. Add a couple of tablespoons to a fruit smoothie, or sprinkle them on top of your morning cereal. You could include them in a savory dish like a casserole, stir-fry or a salad. Chia seeds can even serve as an egg substitute in baked goods. For a one-egg equivalent, mix 1 tablespoon of chia seeds with 3 tablespoons of water, and let it sit for a few minutes until it forms a thick gel.